05/25/2017
Williams-Sonoma's Digital Prowess Powers On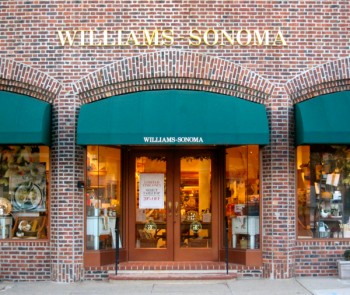 Williams-Sonoma, Inc. is powering forward on a number of new unified commerce initiatives, from 3D apps to email marketing to digital advertising using data analytics. The Pottery Barn and West Elm parent company grew revenue by 1.2% in its first quarter 2017 to $1.112 billion versus $1.098 billion in Q1 2016 with comparable brand revenue growth of 0.1%.
Its e-commerce revenues were up slightly less than last quarter (2.2%)rising 0.7% to $581 million. The homegoods retailer's e-commerce revenues now generate 52.2% of its total revenues as the company continues to invest in e-commerce innovation.
"In the first quarter, we saw strong sequential improvement in the Pottery Barn brand, demonstrating the effectiveness of the brand initiatives that we are implementing," said Laura Alber, President & CEO. "West Elm, our newer businesses (Rejuvenation and Mark and Graham), and our company-owned global operations delivered another quarter of double-digit growth, and Williams Sonoma started the year off strongly. We also continued to realize positive results from our supply chain initiatives, as we drive continuous improvements across the organization to deliver increased efficiencies and a superior customer experience."
Unified Commerce Improvements
During the quarter, Williams-Sonoma introduced the beginnings of what will be a suite of new digital product and site enhancements for the retailer, as it seeks to provide shoppers with a highly interactive digital experience. Over the next year it will roll out initiatives ranging from virtual reality applications to style finder tools on Facebook to tools on its websites.  
The company has already launched an Augmented Reality application, as well as 3D room design and product visualization tools. The smartphone augmented reality app "3D Room View" by Pottery Barn is powered by Tango technology from Google. Tango is a set of sensors and computer vision software that enables smartphone augmented reality.
This app allows customers to add product to an existing room and see how new products look with their current furniture. The company said it has over 100,000 3D skews available on its website.
Customers will also have access to 3D room views through the assistance of in-store design specialists at select Pottery Barn stores beginning with pilots in the San Francisco Bay area. The company said it plans to roll this out across the country.
"Our customers can better explore, research, and buy our products with confidence and insight," commented Alber. "These features increase conversion and help our customers with their purchase decision."
In its first quarter the company also re-launched the Pottery Barn and Pottery Barn Kids registry platform. Beefing up its unified commerce experience, the retailer added The Store is Yours at Williams-Sonoma, a monthly event where couples go to a physical store and work directly with registry experts to build wedding registries. The company made improvements to registry pages on the website to make registering easier and revamped its email to registrants and is sending them more personalized contact triggered messaging.
Still in its early implementation, enrollment numbers of the company's cross brand loyalty program The Key are strong with members shopping more often, spending more per transaction and purchasing from more brands across the portfolio, according to Alber.
"Later this quarter, we are launching another initiative enabled by The Key program, which we believe will be an industry game changer and leverages our brand offerings across the entire portfolio," said Alber. "With our new cross brand design initiative, we'll offer in home design services, which will allow our design teams to assist our customers in building their dream homes by leveraging all seven of our brands in one easy interaction."
The company stepped up digital advertising spend in the quarter, targeting customers based on advanced data analytics and capitalizing on new storytelling and content rich capabilities across app platforms.
"For example, because of our deep customer pool with robust data and history, we are uniquely able to profile our customers and work with our digital partners to find lookalike audiences that may be new to our file at very cost effective rate," explained Alber. "In this way, our 50 plus years of honing our customer relationship management skills along with our performance marketing disciplines can now be combined with new targeting technologies to ensure our increased investment in digital advertising is efficient and sustainable.
"We are often a leader in partnering with digital companies and as their platforms and offerings continue to evolve, we will capitalize on these opportunities and inspire our customers if they decorate the home."